'Opera' Dating Sites*
Aside from Opera Passions (the site you are on now), there doesn't appear to be other online dating sites focused solely on connecting Opera lovers. The only site that looks close is more about a general type of music rather than a focus on singing and opera in particular. While it is a bit of a stretch, our guess is that it is more likely you will find opera loving singles on a site focused on connecting lovers of classical music. We will watch for other opera related dating sites and if we find any, we'll add them below. Until then, if you like classical music, you may want to check out the site below. Otherwise, just stay on Opera Passions and maybe you will find your opera loving soulmate.
AD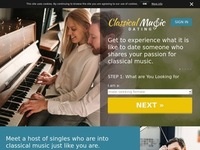 Classical Music Dating
Find the Best Music Lovers Online Today!
If you love classical music and want to date singles who have the same interests, wants and needs then join Classical Music Dating and find your match even today!
AD
*Sites listed on this page are a combination of ads, affiliate related Sites and general non-partnership related sites that match the theme of Opera Passions.